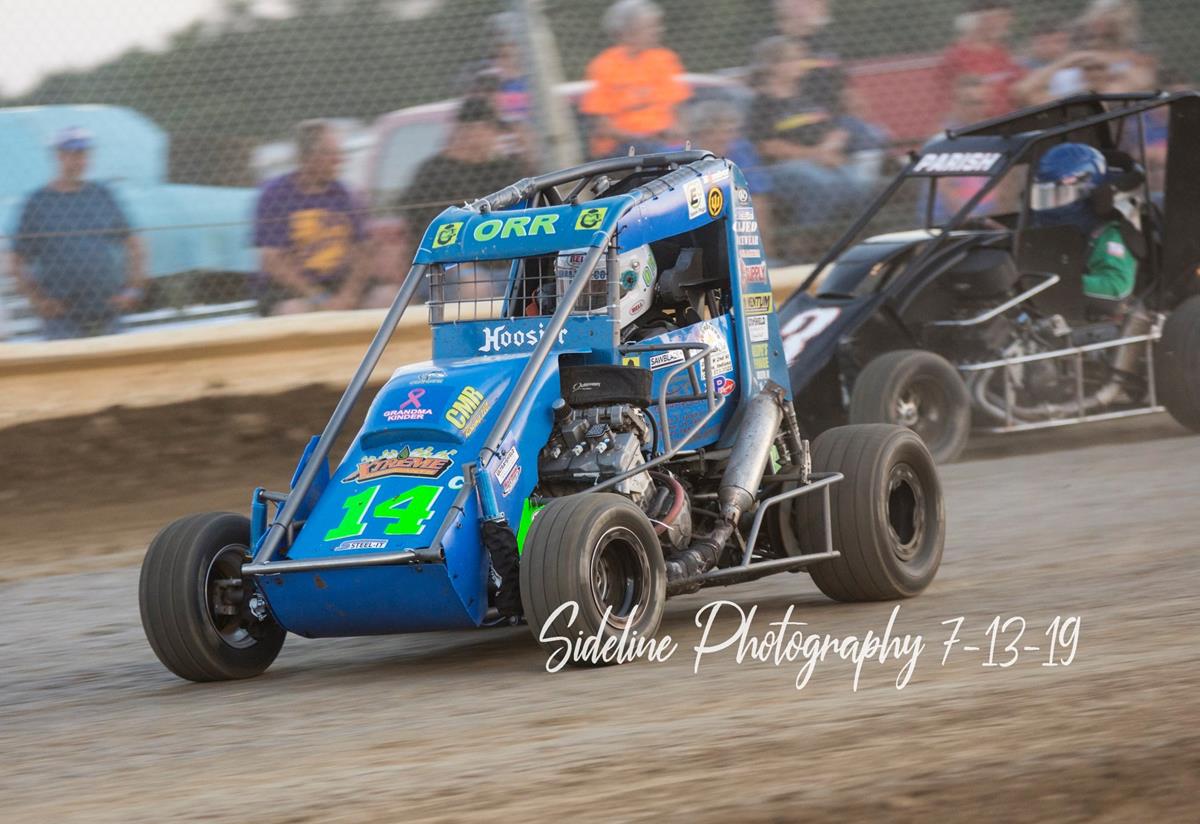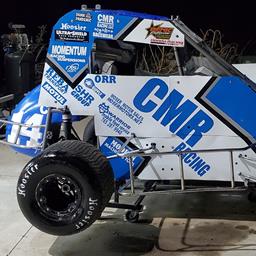 ---
CMR Racing comes home 7th at Circus City Speedway!
For Immediate Release
Upland, IN
7/17/19
CMR Racing returned to Peru, Indiana this past Saturday the 13th. The team was hoping to build off the success they had the weekend before. The track ended up with 2 grooves in the feature event. However, Chad was not able to take advantage of it like he had hoped.
"We had a decent heat race to start off the night. The track started to slick off and I did not adjust enough for it. We moved up one spot after starting 6th and finished 5th. I just could not get back into the throttle coming off the corners like the others in front of me. The more I tried the more I fell back and just spun the tires out from under the rear of the car." stated Chad Orr after Saturday night's heat race.
"The feature event we were trying to decide on which way to setup the car. They reworked the track but I was not sure if it would hold the moisture all the way or if it would slick up. I decided to go for the bottom on setup. I started down there and then I saw some other drivers going to the top. I tried to go up there and get something going and just went backwards. I finally got my brain back in my helmet and went back down to the bottom. We were able to get a few cars but I could have done a lot more if I would have done what the car wanted. I chalk this result up to driver error !" Chad Orr laughed as he spoke after the nights race.
Racing starts at 8 pm this Saturday at Circus City Speedway as the track has pushed start times back one hour due to the extreme heat. Gates now open at 5 pm with racing to start at 8 pm. Admission is only $10 for adults and children 12 years or younger get in free. Pit passes are $25.00 for adults and $10.00 for minors 6-12 (non-drivers).
Sponsor Highlight: Ultrashield Racing Products
Since 1987, Ultra Shield Race Products has been committed to providing the highest quality racing products possible. As the professional choice in racing equipment, our seats, tear-offs, window nets, harnesses, and more are among the best products available for both amateur and professional drivers.
Our primary goal is to supply our customers with fine products and exceptional customer service. We continually update and revise our product lines as new materials and technologies are made available and are in constant contact with some of the top drivers to gain insight on new ideas for safety and comfort. We know the best way to keep our customers secure and confident at high speeds is to keep up a continuous process of aggressive research and development to maintain product lines at the cutting edge of racing technology.
https://www.ultrashieldrace.com
The team would like to thank the following for their continued support in 2019.
Gillespie's Garage, Momentum Racing Suspensions, Ultra-Shield Racing Products,
Steel-It, Pit Bull Lifts, Cajed Race-wear, PC Brick Oven pizza,
Rod End Supply, XS Power, Skips Performance Corner, Xtreme Lubricants
If you would like to come on board with our great team. Then please feel free to contact CMR racing at: amy@cmrracing.com
photo credit: sideline photography
---End of Release---
Article Media
Back to News