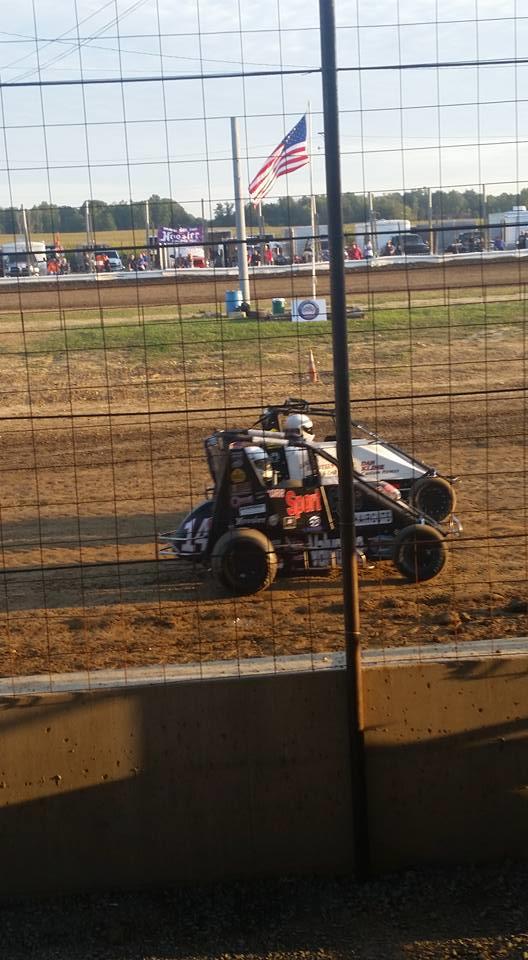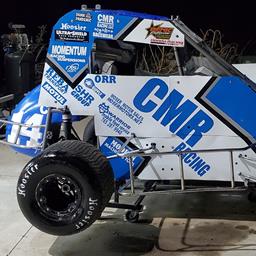 ---
Labor day weekend nets two top 10 finishes
The CMR Racing team traveled to Circus City Speedway in Peru, Indiana over this Labor day weekend and ran the double header show on Saturday and Sunday. The team would finish 10th on both nights.
"The car was really good on Saturday. It was the first time I have turned laps in the car all season so I was just trying to feel it out and get used to it. Curt (Bullick) and the crew at CCS made the track tacky all night and we were able to move all over and try different lines. We started 17th and finished up 10th.
The setup was great I just wish I would have had more laps in the car to know how to drive it better. We were up to 7th or 8th with 2 laps left to go and lost the coolant line off of the back of the engine so that cost us a few spots. Overall I was extremely pleased with our night on Saturday." Chad Orr said as he exited the car after Saturday night's race.
The team would do a quick turnaround after some repairs and tweaking Sunday morning and afternoon. The team also celebrated Amy and Chad's daughter Addie's 1st birthday with the family before heading to the track.
"We were good in hot laps and in our heat race. The heat race was a driver error and dropped us back to 5th and we just could not catch back up as the track was fast and no one made any mistakes. The feature came up and we were trying to guess on setup with the new car and I just got it a little to tight. We put a taller left rear on to kill some stagger and moved the right rear in. I should have left the stagger in it as it would have been spot on."
"However, we will chalk this up to a learning night and make sure we keep this in out notes moving forward. I am extremely happy with the progress we made over the last two nights. I have to thank Bob Gillespie with Gillespie's Trucking & Garage. That guy has over 100 hours in getting our car worked out and the new engine installed. That guy is just great and helps us a ton."
"I would also like to thank Sport Clips, Valvoline, Potbelly Sandwich Shops, Rod End Supply, Ultra-shield Race Products, JAZ Products, Momentum Racing Suspensions, Skips Performance Corner, XS Power, Baker Motorsports, Mel's Keg and LaPalma Mexican Restaurant for all their support this year. They make this team what it is and it is nice to have great marketing partners like them." stated Chad Orr in his Sunday post race interview.
Please follow us on Facebook at: https://www.facebook.com/CMRRacingllc
or at our website: http://www.cmrracing.com
---
Article Media
Back to News