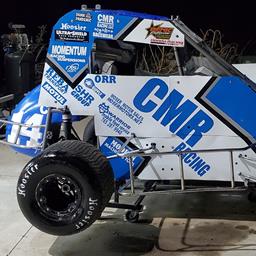 ---
2017 Schedule released for CMR Racing
CMR Racing releases 2017 schedule
(Upland, IN)
Today CMR racing released their 2017 racing schedule. The team currently has 39 events on the schedule for 2017. The team will return the Miami County Speedway in Peru, Indiana. They will also venture to a few more shows at US 24 Speedway in Logansport and also to Baer Field Motorsports Park in Fort Wayne.
"We are excited to announce our schedule for this upcoming season. I know we are still working on securing another engine or two to add more shows to the season. I think we are planning on the "High Banks Hustle" and a few others. We may also travel to Baer Field more since they run on Friday nights. We just have to see what this season brings and if we have some good luck I see us pushing 50 plus shows this year!" stated CMR Racing driver Chad Orr
To follow the teams schedule and also their results. Simply click on the link below or on the schedule tab on the CMR website.
http://www.cmrracing.com/schedule
Stay tuned for more updates and photos of the new car as it is revealed in the near future.
Back to News